BUILDING A RETREAT CABIN FOR LONG RETREAT - Starting in spring 2021 

Version française en dessous
As you know, life is not only short and impermeant, but also full of twists and turns that have the capacity to teach us so much. We can see just that in the world today. 
One such turn happened for me in 2016, eight years after I left monastic life at Nalanda Monastery, when I bought 2 small abandoned barns in the French Pyrénées with the aim of transforming them into long-term retreat cabins for Begoña and I.
The second barn before renovation
In the 15 years I was a resident monk at Nalanda, I served as the Monastery Director and Manager for 10 years, in addition to planning and constructing a new residential and gompa building that took 12 years to complete.
Rendering of the completed project
After leaving the monastery in 2008, I went back to my love of architecture to set up my own business. After a few years, there was no denying that I had a most essential and fundamental need to return to my spiritual path in a much deeper way, and so I began the search for a suitable secluded place for retreat in the nearby Pyrénées.
Rendering of the inside
After Begoña finished the 5-year Basic Program of studies at Nalanda Monastery, in addition to the Madyamika module of the Master Program, she also felt the deep seated need to integrate those studies through retreat. 
Redoing the roof
And so the project was born.
In the first 2 years after purchasing the barns we were able to renovate one of them. The retreat cabin is housed within the barn to preserve the traditional exterior landscape, and is an independent wooden structure entirely made with ecological materials, a very high level of insolation suitable for winter retreats, and a small wooden stove making it an excellent environment for one person to occupy. We have been able to take full advantage of the cabin by taking turns to stay in retreat throughout each of the last 2 years.
The first retrat cabin
Last year we were able to begin the renovation of the second barn through using my last savings and the kind donations from a few friends. This cabin will be slightly larger, but built with the same attention to detail and use of ecological materials throughout its construction. A traditional slate roof is already in place. 
Inside the first retreat cabin
We intend to now enter the completion phase of the second cabin in the Spring 2021 with your kind support, and a few friends who will help with the construction. If we are unable to raise the total amount needed, we will still go ahead with the project, as far as we are able to, with whatever funds are available. 
Redoing the roof of the fisrt barn
Thank you for considering to support this project. The merit of all aspects of our retreats will be fully dedicated to you as sponsors. 
Building the first cabin
Friends and I (on the right) taking a break during the work on the first barn
PARTICIPEZ À LA CONSTRUCTION D'UN CHALET DE RETRAITE DANS LES PYRÉNÉES - Début au printemps 2021
Comme vous le savez, la vie n'est pas seulement courte et impermanente mais aussi pleine de rebondissements, nous le voyons avec les événements qui se passent dans le monde aujourd'hui.
En 2016, huit ans après avoir quitté le monastère Nalanda, j'ai fait l'acquisition de deux petites granges dans les Pyrénées Ariégeoises dans le but de les transformer en chalets de retraite pour que Begoña et moi puissions y faire de longues pratiques.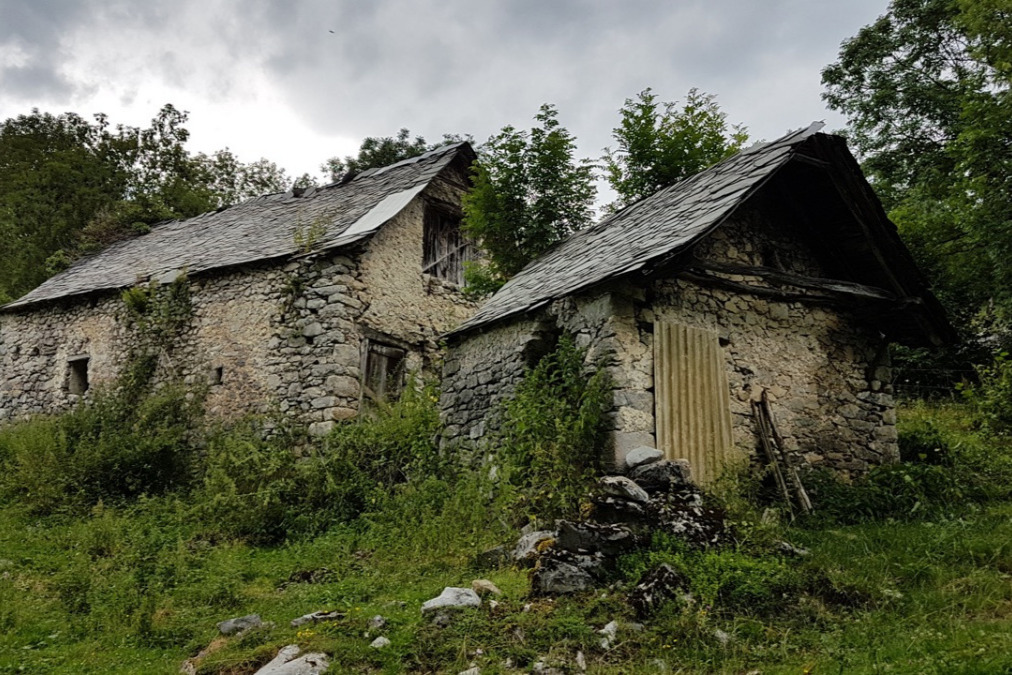 La deuxième grange
J'ai vécu 15 ans en tant que moine au monastère Nalanda où j'ai été, entre autres, manager et directeur pendant une dizaine d'années. J'ai aussi été responsable de la construction de la nouvelle gompa, un projet qui a duré douze ans. En quittant le monastère en 2008 j'ai commencé à travailler à mon compte dans le domaine de l'architecture, réalisant plus de cinquante projets. Mais au bout de quelques années, réalisant que la vie est courte (après tout !!!), j'ai ressenti le besoin fondamental et essentiel de me retirer dans un lieu calme et isolé afin d'approfondir ma vie spirituelle et me suis mis à la recherche d'un lieu adéquat dans les montagnes des Pyrénées. Une région idéale puisqu'elle n'est pas trop loin de Lavaur et de Toulouse.
Rendu du chalet terminé
Puis Begoña, après avoir terminé les cinq années d'études du "Basic Program" et l'étude du Madhyamika au monastère Nalanda, a aussi ressenti le besoin d'intégrer les nombreux enseignements reçus en faisant des retraites.
Rendu de l'intérieur
Pendant les années suivantes, tout en continuant nos vies de citadins, nous avons rénové le premier bâtiment en commençant par la toiture, afin de préserver l'intégrité de la bâtisse. Puis nous avons opté pour le mode de construction de "la boîte dans la boîte" en construisant une ossature bois indépendante à l'intérieur de la grange. Cette structure est très bien isolée, minimisant les besoins de chauffage avec un très petit poêle à bois. L'ensemble est réalisé avec des matériaux naturels et écologiques.Nous profitons maintenant pleinement de ce lieu pour faire de magnifiques retraites à tour de rôle. Comme la surface de l'intérieur ne fait que 26 m² et qu'il n'y a qu'une seule pièce de vie, il est difficile de le faire à deux simultanément. D'où la nécessité de transformer également la deuxième grange.
Réfection de la toiture  en ardoises.... en attente pour la suite des travaux
En utilisant mes dernières économies et avec quelques dons faits par des amis, l'année dernière, nous avons enfin pu commencer la rénovation de ce deuxième bâtiment. Nous avons déposé et refait entièrement la toiture réalisée en ardoises. Nous avons aussi pu rebâtir et renforcer les maçonneries abîmées.
Le premier chalet de retraite sous la neige
Nous avons maintenant besoin de votre aide afin de pouvoir finir ce deuxième chalet de retraite. Celui-ci, légèrement plus grand que le premier, sera réalisé selon le même principe et avec les mêmes matériaux écologiques que l'autre. Il comportera aussi une cuisine et une salle de bain et une partie des combles sera exploitée pour faire une chambre à coucher séparée.
L'intérieur de premier chalet
Soyez d'avance remerciés pour l'aide précieuse que vous nous apporterez. Soyez assurés que
nous ferons des prières et dédicaces quotidiennes pour toutes les personnes qui participent au projet.
Réfection de la toiture de la première grange
Afin de minimiser les coûts, l'essentiel du travail sera fait par nos soins, avec l'aide de quelques amis pour certaines parties.
Idéalement nous commencerons au printemps 2021. Si nous ne sommes pas capables de récolter la totalité des fonds, nous avancerons quand même la construction, autant que possible, avec les fonds recueillis.
Construction de l'intérieur du premier chalet de retraite
Les copains et moi (à droite) prenant une pause durant la rénovation de la première grange

Organizer
#1 fundraising platform

People have raised more money on GoFundMe than anywhere else. Learn more

GoFundMe Guarantee

In the rare case that something isn't right, we will refund your donation. Learn more

Expert advice, 24/7

Contact us with your questions and we'll answer, day or night. Learn more