Help Emilie Protect Antarctica
SUPPORT THE YOUNGEST FRENCH FEMALE STUDENT SELECTED FOR ROBERT SWAN'S 2021 ANTARCTIC EXPEDITION  ❄️️
Robert Swan O.B.E,
the first man in history and famous polar explorer to have walked to both poles (!!!),
has personally selected me to become
an ambassador for his mission to preserve Antarctica.
Today, I am asking you to join me in taking action to save our planet.
Antarctica is shedding ice. Extraordinary biodiversity is disappearing.
To many of us, news like this is devastating, even more so as we are undergoing a global pandemic at the same time. 
Together, let's take a positive turn ♻︎!︎
With your support, I will be able to impact my generation in a positive way and inspire them to protect the Antarctic.
WHO'S EMILIE AND WHY? 
My name is Emilie. I am 20 years old. 
From a young age, my British mum and French dad have given me the opportunity to travel around the world. I have treasured my numerous travel experiences, as a traveler, a nature lover but most importantly because I adore learning about different cultures.
This led me to study Social Sciences at the
University of Bath
, where I was able to expand my knowledge on Climate Change, International Relations, Politics of Development and more. 
 I have
Chances for Nature
to thank for my enthusiasm to help our planet ⬇️
Little Rangers
is an educational program for children of the Menabe area organised each year by the
NGO Chances for Nature
. The program consists of educational activities, teaching the children how to live in harmony with nature and
solve ecological problems
. I was fortunate enough to be able to spend two weeks with the team as a volunteer.
This project sets one idea forward for me :
EDUCATION IS THE MOST POWERFUL TOOL TO DRIVE CHANGE
❗
With Fondation Yves Rocher, we were able to raise 4000€ worth of reusable water bottles for the children.
So here we are today!
THE 2041 CLIMATE FORCE ANTARCTIC EXPEDITION


In November 2021, I'll be travelling to Ushuaia to begin an unbelievable journey to the Antarctic continent ! After crossing the
Drake Passage
, the most dangerous sea in the world, we will arrive in Antarctica
PS: the expedition is 
carbon
neutral!***

(Thanks to the creation of the Polar Carbon Negative Initiative the expedition will be offset 1.25 times its carbon emissions.
Here are some of the amazing things, I'll have the privilege to experience:
The Polar Plunge- coming face to face with icebergs and glaciers- the marvellous antarctic landscapes- getting extra close to the continent's unique wildlife
An Educational Experience
The purpose of this expedition is to create
the next generation of sustainable leaders.Robert Swan OBE
is one of the most renowned climate leaders and one of the best public speakers I have ever seen. It'll be so powerful to learn from him!
Many other experts will be on the ship too, meaning I will gain leadership skills and
learn about the science behind climate change from the very best
.
                               I will become an ambassador for the 2041 foundation!The Leadership on Edge program
will give me the tools to teach my community and myself why and how to be sustainable in all aspects of living. Not only will I gain knowledge issues on climate change, sustainability and energy use, I will also be enhancing my leadership skills.
2041 Climate Forc
e is a community of inspirational individuals that will help me become the best version of myself.
WHO WILL BE THERE?Robert Swan from the 2041 Foundation
The 2041 Foundation was founded by polar explorer and environmentalist Robert Swan (OBE), the first person to walk to both the North and South Poles.
26 years ago, French ocean explorer
Jacques Cousteau
gave Robert Swan a 50-year mission to save Antarctica from the realities of climate change. The 2041 Foundation was founded and through perseverance and dedication, Robert has helped inspire the next generation of leaders to take responsibility for their life paths.
LET'S TAKE ACTION
Upon my return, I will pass on my knowledge to others.
Here's how !
1. I'll be organising workshops at my university,
The University of Bath
, and businesses to discuss
policies that can be put into place as collectives to drive change
.
2. I'll be going to 3
local schools in Bath AND my highschool in Paris
to inspire the
children to take action
by
sharing impactful stories about
my expedition.
3. I'll use the leadership skills I will have gained to
go back to Madagascar
and inspire the children.
4. Make use of social media to promote things we can all do to protect the Antarctic continent:
offsetting flights, eco traveling, shopping, and cooking sustainably
.
TESTIMONIALS
From Robert Swan Expedition Leader of the 2041/Climate Force Antarctic Expedition:
1st Person to Walk to the North and South Poles
BUDGET
 
REWARDS


In return for your kind support!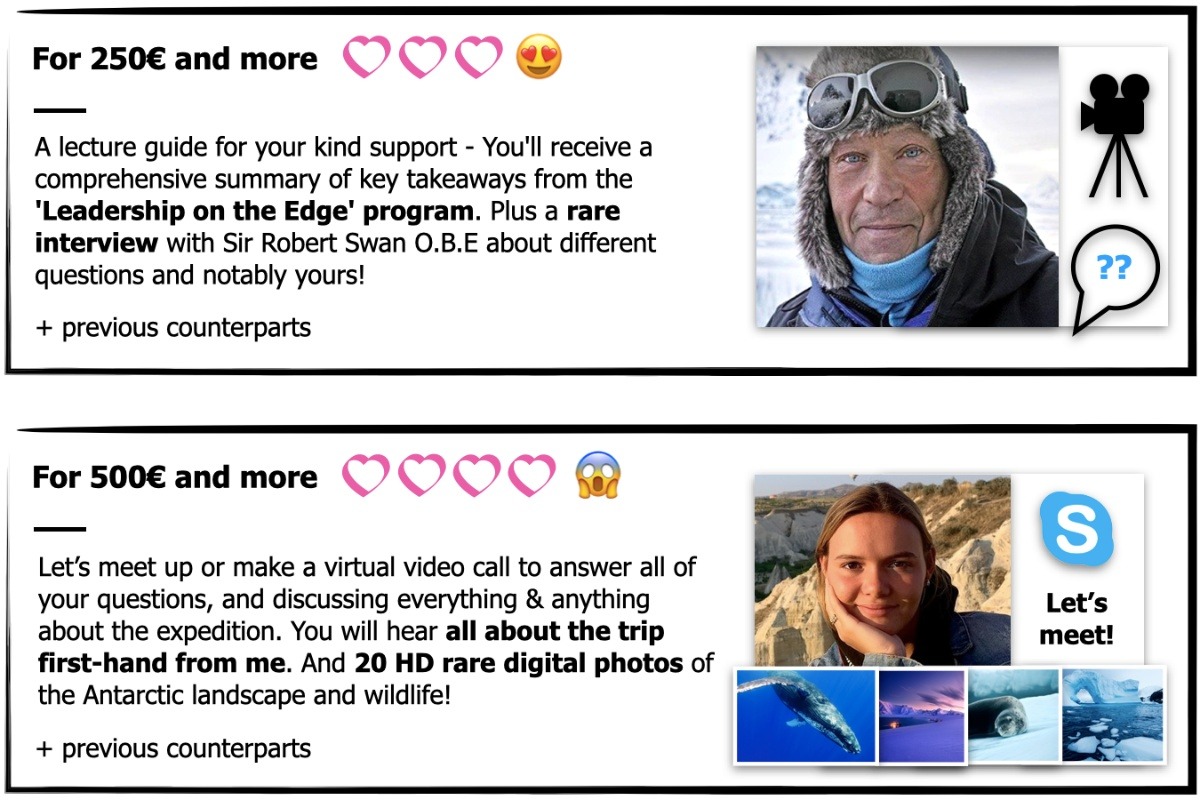 SOCIALS 


Thanks for following me on social media and stay tuned there for what comes next :)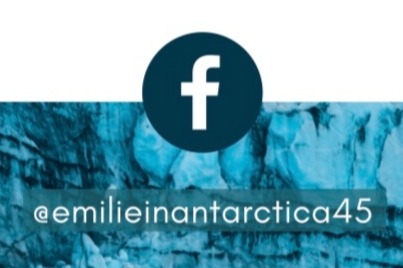 Thank you so much for your support! 
EM

Organisateur
La première plateforme de financement participatif

GoFundMe compte plus d'organisateurs de collecte de fonds que n'importe quelle autre plateforme. En savoir plus

Garantie GoFundMe

Cela arrive rarement mais, en cas de problème, nous déterminerons avec vous s'il s'agit d'une utilisation abusive. En savoir plus

Conseils d'expert 24 h/24, 7 j/7

Envoyez-nous vos questions. Nous y répondrons, 24 heures sur 24. En savoir plus